Korištenje opcije "Add image to post" u polju za unos teksta
Posted:
30 Jun 2008, 02:27
U polju za unos teksta poruke odaberete opciju "
Add image to post
"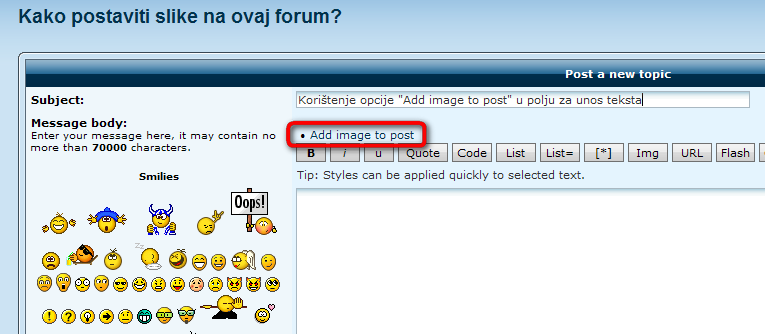 Nakon toga otvara se ovakav prozor putem kojega selektirate željenu sliku sa HDD-a vašeg računala
...možete dodati i opis slike.
Nakon tih radnji klinete na "
Upload
" nakon kojega kada završi se automatski ubaci BCC kod u polje za unos teksta poruke.
Code: Select all

[url=http://www.imageposter.com/uploads/get/445641][img]http://www.imageposter.com/storage/t109/75658070425-F-3961R-495.jpg[/img][/url]
...time se dobije thubnail prikaz slike:
Za punu rezoluciju treba klinuti na taj thumbnail.